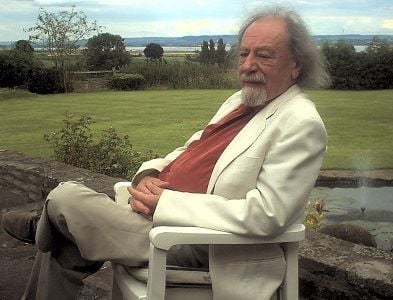 Graham Whettam
I am deeply grateful to John Rushby-Smith, a great friend of the composer, for allowing me to use this excellent biography and I will continue to hope that Graham's work will be more widely programmed! I am proud to have called Graham a friend.

Graham Whettam was born on 7 September 1927 in Swindon and died on 17 August 2007 shorly before his 80th birthday. He worked throughout his life with unwavering, single-minded dedication. His music is invariably dramatic, and it reveals an individual voice that encompasses both stark grittiness and gentle lyricism. The craftsmanship is impeccable, the language eclectic, yet individual, the commitment uncompromising. Like all the best music, Whettam's satisfies at all levels, from emotional gut-reaction to stringent intellectual analysis, and at no time does it pander to ephemeral fashion.
Born in Swindon, Wiltshire, in 1927, Whettam was educated at two local grammar schools and at St Luke's College, Exeter, where he studied English and pursued, largely unaided and self-taught, his interest in composition. On leaving college he took a job teaching English in Spalding. A reluctant teacher, he would set his charges written work and then surreptitiously write music at his desk for the rest of the lesson.
Recognition came early. In 1951 his Sinfonietta for Strings was played at Kensington Palace as part of a Festival of Britain concert, and when he was still in his mid-twenties his works had been performed by the City of Birmingham Symphony Orchestra, on the BBC Third Programme and by the London Symphony Orchestra at the Proms. By the end of the decade his compositions included three symphonies, a horn concerto and the orchestral scores for the film Genevieve (1953) – based upon Larry Adler's fragmentary melodic sketches – while his works had been conducted by Sir John Barbirolli, Basil Cameron, Meredith Davies, Sir Eugene Goossens, Sir Charles Groves, Willem van Otterloo and Sir Malcolm Sargent. Soloists included the oboists Leon Goossens and Janet Craxton, the clarinettist Jack Brymer and the horn player Dennis Brain.
In more recent years the stringently self-critical Whettam discarded his early compositions, describing them as " 'prentice work". Thus his Clarinet Concerto of 1959, first performed by Raymond Carpenter with the Bournemouth Symphony under Sir Charles Groves, became the earliest work he acknowledged for public performance.
In 1958, after the dissolution of his first marriage, he went to live in Coventry, where he became closely involved in the city's musical life at the time of the building and consecration of the new cathedral, for whose choir he composed his Coventry Service in 1962. It was here that he married his second wife, Janet Lawrence, and set up a publishing company, Meriden Music, in order to have full copyright control over his works.
Here too he composed his first acknowledged masterpiece, the Sinfonia Contra Timore. Dedicated "to Bertrand Russell and all other people who suffer imprisonment or other injustice for the expression of their beliefs or the convenience of politicians and bureaucracies", it was written for the Royal Liverpool Philharmonic Society, but the scheduled première under Sir Charles Groves was vetoed by the society's then president, who objected to the dedication. Instead the work was premièred in 1965 by the CBSO under Hugo Rignold in the presence of the nonagenarian dedicatee – an event that also evinced Prime Minister Harold Wilson's good wishes from 10 Downing Street.
In 1973 Whettam was invited to the biennale in East Berlin, where he became friendly with Wolfgang Lesser, then head of the East German composers' union, an association which led to frequent performances east of the Iron Curtain. It must be stressed that the relationship was artistic and not political. During that trip to the DDR he visited Dresden, where he stood before the ruins of the (now restored) Semper Oper, an experience which moved him to write his powerful Sinfonia Intrepida. This received spectacular critical acclaim at its first performance, given by the Royal Liverpool Philharmonic in 1977. Similar accolades greeted his Sinfonia Drammatica which was premièred at Jena, East Germany, the next year. In 1979 Sinfonia Intrepida was broadcast by the BBC Symphony Orchestra, conducted by Sir Charles Mackerras. Despite being dubbed "a natural symphonist" by the Sunday Times critic Desmond Shawe-Taylor, it was another 20 years before Whettam returned to the symphonic form with his Promethean Symphony of 1999. Meanwhile he had written his powerful Concerto Drammatico for cello and orchestra, an extensive canon of chamber works, including four exquisite string quartets, two oboe quartets, works for a variety of duos and small ensembles, pieces for percussion, pieces for children, organ works and choral settings of secular and sacred texts.
Aside from his composition, Graham Whettam held the position of Chairman of the Composers' Guild of Great Britain and he served as a director on the boards of the Mechanical Copyright Protection and Performing Right Societies. He was also vice-chairman of the British Copyright Council for some 20 years. In these capacities he was a dedicated, almost militant champion of composers' entitlements, which saw him cross swords from time to time with certain factions within the British musical establishment, not always to his personal advantage.
He thus achieved a lot of his success abroad, especially in Holland, Eastern Europe and Russia. His works have also been widely performed in the United States, notably by Emily Lowe and her Eastern Michigan Madrigal Singers, the Shreveport Symphony Orchestra, conducted by Dennis Simons, and the Sinfonia da Camera of Urbana, Illinois, under Ian Hobson, who also recorded his works on the Redcliffe Recordings label.
Already teaching composition at the Colchester Institute, he moved to Ingatestone, Essex, in 1980, where he became a life-long trustee of the Essex Young Musicians' Trust. In 1994 he and Janet moved to Woolaston, near Lydney in Gloucestershire, where they set up home in a pair of converted barns overlooking the Severn Estuary, and where Graham spent hours composing in his commodious studio. He prepared all the scores and parts of his works meticulously and elegantly, using a venerable DOS-based computer program to which he remained passionately loyal despite the more streamlined systems which became available.
After going to live in the county, he became closely involved with music-making in Gloucestershire. On 10 August 2007 he attended a performance of his String Quartet No 1 in Painswick Church as part of the Three Choirs Festival. It was given by the brilliant young Carducci Quartet, who have regularly played his works, including at the 2002 Cheltenham International Festival and on CD for their Carducci Classics label. This was his last public appearance before his death a week later on 17 August 2007.
Among other leading artists who have performed Whettam's works are his close friends the violinist Yossi Zivoni, the Dutch oboe player Victor Swillens and the Austrian 'cellist Martin Rummel.
John Rushby-Smith
Some years ago I met the wonderful violinist, Rupert Marshall-Luck, who shared my interest in music by English composers and often performed these at the English Music Festival, the inspiration of his wife Em Marshall-Luck. I arranged for him to see the unaccompanied violin music written by Graham and his enthusiastic response resulted in the production of a fine double CD recording. Please contact me if you would like further details.